Snow Bros. Special releases in May, new trailer
Posted on March 30, 2022 by Nicolas in News, Switch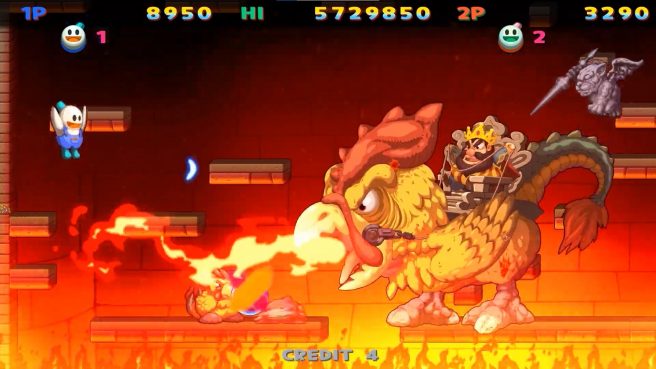 Publisher Daewon Lab Media and developer CRT Games have announced an official release date for Snow Bros. Special. The game is set to launch on Switch on May 19, 2022.
Snow Bros. Special is a revival of the original Snow Bros arcade game, created by Toaplan in 1990. It is produced with the intention of replicating the feel of the arcade game, while improving older mechanics and retaining the cute aesthetic of the original.
Get a preview of Snow Bros. Special under the break.
On

Snow Bros. is a classic platform game that was first released as an arcade game in 1990 by Toaplan, a Japanese development studio that was mainly famous for its shooting games. The critically acclaimed Snow Bros. was later released on multiple consoles and personal computers. Highly popular with gamers, Snow Bros. spawned an arcade sequel. Snow Bros. gained cult status as a sought-after retro game after being dormant since the 90s.

30 years later, it's time for heroes Nick and Tom to return in a modern interpretation with the title Snow Bros. Special coming to Switch later in 2022. Snow Bros. Special inherited the cute design and feel of the original arcade version, but improved to make it even more fun. The game can be played by two players at the same time.

New to Snow Bros. Special is the "Monster Challenge" mode in which you play as the monsters. Each monster has its own special moves and controls that will change the way you play. Monster Challenge is included with the physical version and available as separate downloadable content for the downloadable version.

Story

One day, the peaceful land of Snow Land is suddenly invaded by King Artich of the Hotteda Kingdom! The twin princes of Snow Land, Nick and Tom, attempt to stop him, but are in turn turned into snowmen by King Artich's curse. The twin princesses, Puripuri and Puchipuchi are kidnapped and Snow Land has started to melt and disappear. Nick and Tom begin their long journey to find peace in Snow Land, rescue the princesses, and lift the curse.

Main characteristics

Snow Bros. Special will be released on Switch.
With two-player platforming action.
Play as all the monsters in "Monster Challenge" mode!
Here is the new trailer for Snow Bros. Special.
Snow Bros. Special will release both physically and digitally through the eShop. The digital will cost $19.99 while the physical package version will cost $29.99 and will include the DLC on the cart.
Related